Online Driver Education
Providing government agencies, school
districts, and private businesses with
traffic safety and driver education
courses and software solutions tailored
to their requirements since 2000.
Looking to offer an Online Driver Education Course?
Over the past decade, e-learning has reshaped the educational landscape. Government agencies, school districts, and private businesses across the country have started offering online courses in order to reach more people, reduce costs and broaden their offerings.
CyberActive provides the necessary tools to administer effective and economical online driver improvement and driver education courses. CyberActive can help improve outcomes — whether your court, school, or other entity has a dozen students in a single class or thousands in an entire district, we can help.
CyberActive pioneered the online driver safety education industry in 2000, receiving one of the very first approvals in the nation for its online driver improvement program in California. Since then, the company has grown into one of the largest partners for state, local government, and school districts seeking to develop and administer online driver safety education programs.
Our story
In 2000, CyberActive became a pioneer in the online driver safety training industry after receiving one of the first approvals in the nation for its online traffic school program in California. CyberActive has since become one of the nation's foremost Software as a Service (SaaS) providers for government, public and private entities seeking the development, deployment, hosting and administration of specialized online driver safety education programs, with active programs in all 50 states and over 7 million student enrollments to date.
Press
If you're a member of the media and would like to speake with us, please get in touch with us at [email protected] or call us at 213-205-3018. Only media inquiries will receive a response. If you're interested in becoming a CyberActive partner, please submit your information at here.
What We Do

Driver Education Courses
Create custom driver education courses that are engaging, interactive, and educational specifically for our clients

Software Development
Create custom software to allow our clients to administer online driver education courses.

Traffic School Courses
Offer online driver education courses to end users.
Our Driver Education Courses
Engagement Leads to Student Success
An in-house team of researchers, compliance writers, licensed driving instructors, licensed teachers, curriculum designers, educational game designers and developers, and user interface experts work together to create our courses.

Our courses emphasize interaction with

Real-life driving simulations

advanced 3d technology

cutting-edge interactive games

streaming videos Engagement leads to student success
Our Software Platform
The secret of our success is our proprietary Learning Content Management System (LCMS).
We're different than our competitors: At CyberActive everything is done in-house with a talented team of software developers and educators.
Our LCMS was built from the ground up by our team of developers, and boasts unparalleled stability and security for all of our users. Our LCMS is responsive, flexible, and reliable. Courses work on every platform; whether at a desktop or laptop, on a mobile phone or tablet,
everything adjusts to suit our students' device.
Plus every CyberActive online course offers an audio Read Along feature, which narrates the course aloud.
Safety and Security
CyberActive provides rigorous and intense in-house security with a suite of identity verification solutions. These measures can be added to each program upon our clients' request. We can implement as many or as few security features as desired

Trainee Activity Log (footprint)
Each user's activity in the course can be tracked and reported on the CyberActive administrative dashboards. The activity log reports the time spent on each lesson, log in and log out times, quiz and final exam results.

Course Timers
CyberActive clients have the option to impose individual lesson or cumulative course timers to ensure users spend a minimum amount of time mastering the material.

Course Activity Monitor
CyberActive clients may choose to deploy a Course Activity Monitor to guarantee users are actively engaged while logged into the course.

Security Questions
Users must answer a series of personalized, unique questions verifying their identity prior to starting the course. Questions also appear randomly throughout the course. Users have two minutes to answer, and two wrong answers lead to disqualification.

Lexis Nexis
As an alternative to on-site testing, users can verify their identity from any computer prior to taking the final exam. Lexis Nexis, one of the nation's largest risk mitigation companies, can verify a user's identity by asking a series of questions derived from public records. Accessing information about a user's birthday, places of residence, and other key details, Lexis Nexis generates questions that ensure the identity of the person taking the test.
CyberActive has experience in administering large state programs as well as smaller, more custom-tailored programs for individual organizations and jurisdictions. In states where the online traffic school approval is not granted on a statewide basis, CyberActive has received approval from hundreds of courts to offer its services.
In many cities and municipalities such as Baton Rouge, Louisiana and Iron County, Utah, CyberActive was chosen to be the sole provider of online traffic school courses.
Most courts have chosen to adopt the online traffic school option to provide their constituents access to education as most people would prefer to take traffic school online.
Online Traffic School Courses
CyberActive utilizes the most advanced 3D technology to create proprietary real-life driving simulations and various interactive components and games that reinforce key traffic school topics. These features aid in keeping our participants' attention, helping them retain this critical information. We also use streaming videos to enrich our audiences' learning environment and provide real world scenarios for important driving safety lessons. Learning should be engaging, and therefore we employ many methods to keep participants interested in statistical and legal information that can often times be difficult and cumbersome.
Courses key features

Responsive
Responsive Courses that can be taken from any device.

Curriculum Updates
Pursuant to regulatory requirements, we maintain a dedicated, in-house staff that specializes in curriculum development and course writing to regularly update all of our traffic school courses.

Multiple languages
Our courses offered in multiple languages depending upon the state.

Audio Read along
Course is read to students.

Many Satisfied Customers
Based upon course evaluation data gathered from CyberActive's 7 million course completions since 2000, our courses have received a 99% customer satisfaction rating.

Customer and Technical Support
We offer 24/7 telephonic and online customer service, technical, and course content support.
The Features Judges and Court Administrators Love.
CyberActive has a variety of technologies to verify the identity of program participants to ensure that the intended participant is actually taking the course. Many states and jurisdictions offering online traffic school require identity verification.
CyberActive uses the latest and most cutting-edge technologies, such as voice biometrics, which verifies a participant's identity during the course, and LexisNexis, which draws upon consumer public records to verify a participant's identity. Unlike Experian, which relies upon a participant having sufficient credit history from which to draw questions, LexisNexis has been proven to be a more effective verification tool because it relies upon publicly available records drawn from many data sources, which virtually all participants have on record.
Record Keeping
Our customized LCMS database contains detailed information for participants who are required to attend an online traffic school course and have signed up or completed one of our courses. This includes the participant's footprint, or course activity log, which displays all actions a participant takes during the course. This database also stores the students' personal information permanently. In addition, the database also handles a vast switchboard of other pertinent information, such as: financial data, products and services utilized, state and local jurisdictions and course completion certificates and/or completion transmission alerts. Additionally, our LCMS automates the processing and shipping of participant completion certificates for our courses in multiple jurisdictions through multiple delivery methods. Using this system, we provide recordkeeping for courts, regulatory agencies and corporations across the country. In addition, all records are maintained in a secure electronic environment for the specific amount of time as determined by the court, regulatory agency or corporate client.
CyberActive was one of the first companies to gain approval to offer traffic school courses online in 2000 in California. Since then CyberActive has gained approval statewide in:
Partnering with CyberActive
Most courts have chosen to adopt the online traffic school option to provide their constituents access to education as most people would prefer to take traffic school online.
Courts can utilize our online traffic school in the following ways:
Courts can place a link on their website and white label our online traffic school. This option allows courts to offer a white label program that appears to be the program of the court. Courts will collect the student registration fees and remit a per student licensing fee to CyberActive.
Courts can also refer students to us. We collect the fee from the student and we also have the ability to collect court fees on behalf of the court and remit back to the courts.
Many school districts, private and charter high schools of high schools have partnered with CyberActive to offer the most engaging and affordable online driver's education courses to their students.
Giants of the teen safety industry such as DARE, YMCA, AdvancEd and thousands of individual high schools and other driver's education partners all agree that CyberActive offers the best online driver's education programs.
Utilizing the most advanced white-label solutions in the industry, individual schools and districts can offer our course utilizing any one of the below partnership options:

Our course can be licensed to schools as a white label product so that the course is offered through the high school website in a fully-branded environment, allowing schools to track students through a web-based administrative dashboard. Districts and schools can also offer our program through a Virtual Classroom which allows schools to assign classes

Districts and schools can also offer our program through a Virtual Classroom which allows schools to assign classes to teachers, teachers can set up extra assignments beyond what the program offers or use the standard program. Teachers can also set up office hours virtually and teach an online class that feels as close to a regular class as possible.

For schools that wish to offer the course through one of our websites, they can purchase registration codes in bulk and direct the students to our website.

Engaging Online Driver Ed Courses contain games, simulations, and videos

Manage Assignments:
use our course as is or create special assignments for your students

Set Up Virtual Office Hours

Create as Many Classes as You like

Impersonate Student Accounts

Higher Permit Test Pass Rates


Florida Districts and High Schools
Florida Districts, private and charter schools can now offer online driver education courses to their students at a much lower cost than the only other option on the market.
Join the group of students and administrators who love CyberActive!
Over the past ten years, internet-based companies have started taking over the training and education industries by providing less expensive and more accessible courses than those offered by brick-and-mortar schools. Consequently, owners of brick-and-mortar driving schools are finding it increasingly difficult to compete in today's market without integrating an online option into their business model. If you want to take your driving school or business to the next level, becoming a CyberActive Partner is the perfect way to increase your registrations and revenues by establishing an online presence.
As a School Partner you will…
Connect your website to a fully branded registration portal that maintains the general look and feel of your website.
Features
Allow your customers to enroll in a state approved traffic school or driver education course that is branded by your company.
Earn a commission for any customer who enrolls in and completes a CyberActive course.
Track your commission payments and referrals through an online affiliate account.
Have access to one or many of CyberActive's state-approved courses.
Pay absolutely nothing to setup your account.
Receive monthly commission payment deposits on time, every time.
The CyberActive fleet training program was designed with one thing in mind: putting safer drivers on the road while improving bottom line costs. Consider this eye-opening statistic – commercial auto collisions cost employers more than $50 Billion annually.
With our program, your company can reduce its insurance costs by making sure that company drivers receive the most comprehensive traffic safety training in the industry. And with the CyberActive Fleet Administration Center, employers can generate detailed reports on employee participation, test results and monthly completions.
The CyberActive Fleet Training Program applies to drivers of any type of commercial vehicle, including transportation services vehicles. The program covers basic federal traffic safety regulations, defensive driving techniques, safe driving lessons for in all conditions, and the risks involved with driving under the influence of alcohol and drugs.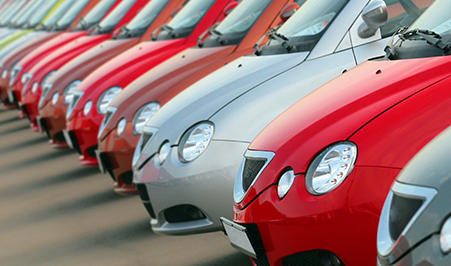 3 hour basic
3 hour basic fleet training program Special $25.00 per driver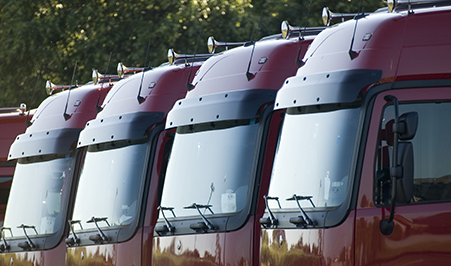 6 hour basic
6 hour advanced fleet training program $29.95
Course
Our 3-hour course contains 4 chapters of fleet training instructions.
This course covers many important safety topics, including:
Final Exam
After completing the course, you must pass a brief final exam with a score of 80%. However, you may re-take the final as many times as necessary at no additional charge.
Cost
The 3-hour fleet driver course is available for $25.00 per driver. We also offer bulk discounts for all of our fleet driver safety courses.
Course
Our 6-hour course contains 16 chapters of fleet training instructions
for a more comprehensive safety training experience.
Final Exam
After completing the course, you must pass a brief final exam with a score of 80%. However, you may re-take the final as many times as necessary at no additional charge.
Cost
The 6-hour fleet driver course is available for $29.95 per driver. We also offer bulk discounts for all of our fleet driver safety courses.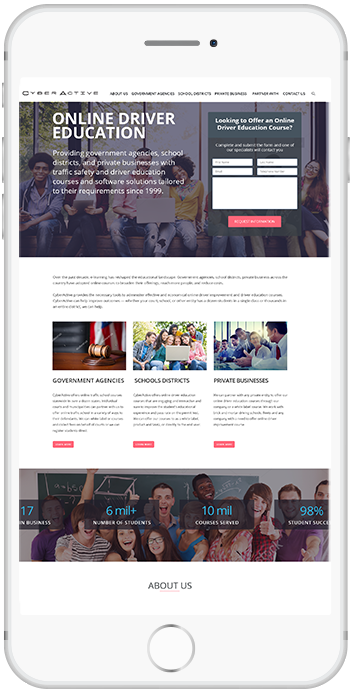 CyberActive has been providing online traffic safety correspondence courses for over 20 years in 30 states across the country including Texas, California, Florida, Indiana and Alaska. CyberActive is the latest in a long line of innovative, economical and convenient courses designed to improve roadway safety.

Our highly-trained customer service representatives include state-certified traffic safety instructors, who can help you or your drivers answer any question.

We are open 7 days a week, to answer all of your questions.

We are consistently the LOWEST PRICED COURSE in the industry

Unlike many of our competitors' courses, CyberActive has driving simulations and award winning graphics, and was created after years of research aimed at providing drivers with the most engaging and interactive experience possible.

More than 7,000,000 drivers have taken and graduated from a CyberActive course
To get more information please complete and submit the form below.
Call Us
CyberActive Incorporated
8383 Wilshire Boulevard, Suite 742
Beverly Hills, CA 90211

888.329.7069 ext.125